Catalogs.com Departments

News & Articles

Model Robot Kits - Edmund Scientific
Model robot kits are great for building robots
Want to build your own robot? Model robot kits from Edmund Scientific come in different skill levels and varieties so you can choose the perfect robotics model to make, providing hours of entertainment and educational fun!


When you create your own robot, you feel like you can accomplish almost anything. Model robot kits are available in walking soccer, mouse and kabuto-mushi varieties, allowing you to build from scratch and enjoy what you've created.... read more


This catalog is currently out of stock.


Please search through our categories for another catalog.


- or -

Shop for model robot kits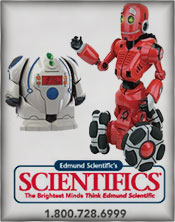 More About Model Robot Kits - Edmund Scientific:
Other great Edmund Scientifics departments:
Once you make your own model robot, sit back and enjoy the action with remote controlled handsets that power their every move.


When learning is fun, children get excited. What better way to teach kids to fine tune mechanical skills than with model robot kits that let them control the action? With different skill levels, children of all ages can build their own robots without getting frustrated with kits that are too difficult for them.
Model robot kits are not only wonderful teaching tools, but the perfect way to inspire kids who love robotics to new heights.