Catalogs.com Departments

News & Articles

Solar Energy Gadgets - Edmund Scientific
Solar energy gadgets harness the power of the sun
Help children learn how the sun fuels a variety of objects with solar energy gadgets that are educational and entertaining.


Think we need electricity to power everything? Think again! And teach kids how powerful the sun is, too, with solar energy gadgets that do everything from provide illumination to cook hot dogs! Solar lights, cooking with the sun weiner roasters and solar stone outdoor lights are just some of the ways children can experience all of the ways the sun creates energy.... read more


This catalog is currently out of stock.


Please search through our categories for another catalog.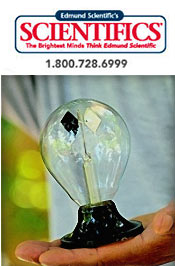 More About Solar Energy Gadgets - Edmund Scientific:
Other great Edmund Scientifics departments:
Instead of burning electricity, explore ways of using the sun's power with solar energy gadgets. By teaching the next generation the different ways we can run things on solar power, they can fully explore alternative energy methods that will help the planet. But these gadgets are more than teaching instruments -- they're also a fun way for kids to learn, from color changing solar dough to solar powered boats.
Edmund Scientific provides various solar energy gadgets that children of all ages will appreciate, while harnessing the power of the sun!