Catalogs.com Departments

News & Articles

Therapy Scooter Board - Fun and Function
A therapy scooter board strengthens and improves bodies
If you need a therapy scooter board to help improve a child's development, you'll love the selection at Fun and Function. The various colors and designs work for any child who requires help with balance, posture and coordination.


What are you looking for in a therapy scooter board? You want something durable and sturdy, but it also needs to be comfortable for little bodies to use.... read more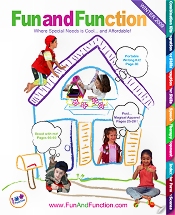 More About Therapy Scooter Board - Fun and Function:
Other great Fun and Function departments:
You'll find scooter boards here in fun, vibrant colors that will appeal to kids, including red, blue and yellow. Tummy scooters, saddle scooters, scooters with handles and scooterboards with handles are made to withstand daily activity from children who need to develop upper and lower body strength, and motor planning skills.


Children can use a therapy scooter board while sitting, kneeling or lying down, depending on their needs. High density foam is a comfortable cushioning agent and swivel wheels work in many different positions. Kids will build their self-confidence and muscular strength, indoors or out. These boards work for home or in a therapeutic setting.
For the perfect therapy scooter board that will help a child develop in many useful ways, you can't go wrong with the colorful and varied selection you'll find here!