Catalogs.com Departments

News & Articles

Casual Cotton Skirt - FreshProduceClothes.com
A casual cotton skirt is a stylish warm weather option
A casual cotton skirt is a versatile warm weather option that works for spring and summer. Just slip one on, add a stylish top and shoes and you're ready to face the day.


The next time you want an easy outfit that's incredibly stylish, pick a casual cotton skirt and pair it with a trendy top. The selection of styles you can choose from FreshProduceClothes.... read more


This catalog is currently out of stock.


Please search through our categories for another catalog.


- or -

Shop for casual cotton skirt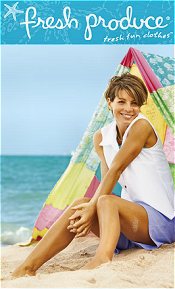 More About Casual Cotton Skirt - FreshProduceClothes.com:
Other great FreshProduceClothes.com departments:
com make it simple to find the perfect skirt for you. These cotton skirts are great for casual occasions, including picnics, errands and spur-of-the-moment day trips.


Sportswear skirts, broadcloth boardwalk scooter skorts, hideaway flower tiered jersey skirts, seaside skirts and sweet poppies skirts are just some of the beautiful selections you'll find here. A casual cotton skirt can easily take you from day into night with a simple change of shirt or shoes. Stay cool and comfortable all spring and summer in a variety of cotton skirts that work with all types of casual wear.
A versatile casual cotton skirt is a great addition to any woman's wardrobe, perfect for any occasion that calls for simple chic!