Coats and Capes - Pyramid Collection
Coats and capes are perfect for creating a gothic look
Whether you're going for a Gothic, Renaissance or new age look, coats and capes can add just the touch you're looking for. Perfect for costume parties or special occasions, you'll stand out in these richly detailed garments that recall another era.


Playing dress-up or are coats and capes part of your everyday apparel? Either way, these one-of-a-kind accessories will complete your ensemble.... read more



Shop for coats and capes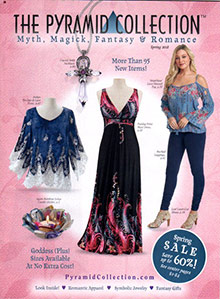 More About Coats and Capes - Pyramid Collection:
Other great Pyramid Collection departments:
Find elegant capes in reversible combos such as black and red, purple and red or emerald and purple. Create an air of mystery and intrigue in these hooded capes that only reveal what you want to reveal! A dramatic cape is perfect for formal occasions that call for something beyond the ordinary.


Coats and capes are available in many different styles, including a steampunk buckle jacket, brocaded coat, dragonfly coat, full length velvet cape, Edwardian velvet jacket, sorcerer's cloak, Neo-classic coat, bordeaux coat, velvet reversible capelet, Regency waistcoat, new age ponchos, Wings of Isis cape and more! These beautiful coats and capes are great for period recreations or for any occasion that calls for drama and a touch of the fantastic.
Pyramid Collection carries a great variety of capes, coats, ponchos, cloaks and more that are sure to add mystery and romance to any outfit!