Fleece Hoodies - Horny Toad
Bundle up with comfy cotton fleece hoodies
Bundle up with cozy fleece hoodies from Horny Toad! Are you looking for the perfect way to warm up during those cold winter nights? Fleece hooded sweatshirts offer a soft, comfy alternative to itchy, mystery fabric sweaters. Be kind to your environment! Warm up the green way!


All fleece hoodies offered are made from natural, eco friendly fabrics such as cotton.... read more


This catalog is currently out of stock.


Please search through our categories for another catalog.


- or -

Shop for fleece hoodies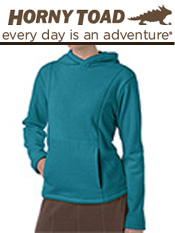 More About Fleece Hoodies - Horny Toad:
Other great Horny Toad Activewear departments:
Don't settle for cheap imitators and unknown materials! Get real cotton hoodies now!


Browse from a wide selection of styles, including mens hoodies, womenís hoodies and fleece sweatshirts. Find the perfect fleece hoodie today!
Find your new favorite wardrobe piece right now! Shop online for eco friendly fleece sweatshirts that are sure to keep you warm during the coldest nights of the year!
Fleece hoodies offer functionality and comfort for men and women of every shape, size and fashion sense. Find the one thatís right for you today!
Is it time to throw out that old ratty sweatshirt that youíve had since college? Do you need a durable hoodie that can last through hours of touch football and hiking? Find your new favorite fleece sweatshirt by browsing through a wide selection of styles that are built for comfort and warmth.