Catalogs.com Departments

News & Articles

Clay Cutting Tools - AMACO
Clay cutting tools work for fine cutting on clay projects
You work hard to make your clay projects as perfect as you can. Clay cutting tools are great for giving you more control over shaping and cutting, ensuring beautiful clay work time and time again.


Now cutting curved lines, arcs, arches, flower shapes, geometric designs and more is a breeze with clay cutting tools that are sharp and easy to use.... read more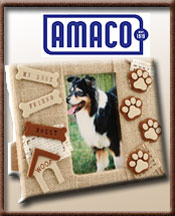 More About Clay Cutting Tools - AMACO:
Other great AMACO departments:
Flexible polyblades are bendable, allowing you to cut curves with ease. Beveled edge cutters create large or small geometric shapes, and are also available in dog shapes like paw prints, bones and dog houses, for anyone who wants to create dog themed accents!


Clay cutting tools make it easy to get just the shapes you want. Polyblades and polycutters are sturdy and work quickly to cut through blocks or canes. Plus, your cuts will be incredibly precise, giving your work a finely detailed edge. Whatever you create, your clay projects are sure to be well-crafted and close to perfection with the care you take with these superb cutters.
AMACO carries a variety of clay cutting tools that any clay worker will love for their precision, reliability and attention to detail!