Catalogs.com Departments

News & Articles

Craft Modeling Clay - AMACO
Craft modeling clay provides tons of artistic possibilities
Craft modeling clay isn't just for kids. It's for anyone who loves the special feeling they get from creating using their hands and imagination. AMACO carries a variety of clays that are great for the classroom, home studio or playroom.


Bright colors and pliability make Easy Squeezy clay perfect for children to use. Super soft and vibrant, kids will love creating anything they can dream up, including dinosaurs, cars, foods, frogs, turtles, people and even villages! Super Dough is another soft option in craft modeling clay that's easy on little hands.... read more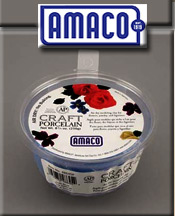 More About Craft Modeling Clay - AMACO:
Other great AMACO departments:
Other craft modeling clay options include porcelain modeling material, which dries within a day and can be painted, perfect for making delicate figures such as flowers and sculptured pieces. Whatever you want to make, modeling clay is available in various textures and pliable options that work for any age. Unleash your creativity and use these clays over and over!
For temporary projects or for more permanent ones that will be painted and detailed, craft modeling clay is perfect for creating whatever you desire, whatever your age!