Catalogs.com Departments

News & Articles

Decorative Art Supplies - AMACO
Decorative art supplies bring your creativity to life
Whether you love working with clay, paints, metallics or paper, there are decorative art supplies for your unique hobby. AMACO carries a wide variety of supplies whether your passion is sculpting, pottery or painting!


Decorative art supplies come in various forms, just as arts and crafts do. You'll find supplies here that cover different art forms, depending on your needs.... read more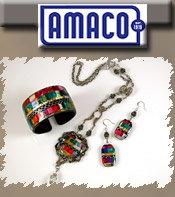 More About Decorative Art Supplies - AMACO :
Other great AMACO departments:
Choose from scrapbooking products, liquid metallics, modeling clays, other modeling materials, plastic modeling material, beadmaking tools, glow in the dark paints, fabric dyes and much more!


Create your own jewelery, sculptures, figurines, pottery and more with decorative art supplies that are perfect for children or adults. Whether it's just a hobby or you create for a business, these supplies and books are exactly what you need to turn out stunning, unique works that you'll be proud of.
When you have the right decorative art supplies on hand, creating one-of-a-kind pieces of artwork is so much easier. Find the right supplies and accessories for your favorite artistic endeavor and let your creativity come to life!