Catalogs.com Departments

News & Articles

Dog Artwork - Pipsqueak Productions
Dog artwork is perfect for pet lovers
It's time to find a unique gift that the dog lover in your family will cherish for years to come. Dog artwork from Pipsqueak Productions allows you to give a one-of-a-kind art piece that captures the essence of your beloved pooch. Find fun dog artwork today!


The professional pet artists can create a masterpiece that brings out the best in your pup.... read more


This catalog is currently out of stock.


Please search through our categories for another catalog.


- or -

Shop for dog artwork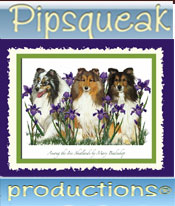 More About Dog Artwork - Pipsqueak Productions:
Other great Pipsqueak Productions departments:
All you have to do is provide your favorite picture of your dog and the professional pet artists will create a perfect "pawtrait" that you and your family will enjoy for generations.


Give the gift of professional dog artwork. From that grey patch of hair on your pups nose to the sweet droop of his eyes, pet artists can capture every little detail that you hold so dear. The pet artists can apply your dog artwork to fun and creative items such as aprons, shirts, pet furniture and more!
Are you a stationary guru? Do you create the family newsletter or send personalized celebration cards? Purchase a fun, dog artwork stationary set that will put a smile on every face in the family. Choose from several dog breeds or have them create your very own specialized dog artwork stationary kits.