Catalogs.com Departments

News & Articles

Paper Mache Crafts - Sunshine Discount Crafts
Paper mache crafts allow for easy creative fun
Turn a plain item into a one-of-a-kind item with simple paper mache crafts.


Create unique accessories - Start with a plain purse or picture frame and add your unique touch to turn it into an artistic masterpiece. Paper mache crafts become interesting creations limited only by your imagination.



Paper mache crafts for the holidays - Make your own holiday decor with paper mache boots, stars, pumpkins, balls, gingerbread men and boxes.... read more


This catalog is currently out of stock.


Please search through our categories for another catalog.


- or -

Shop for paper mache crafts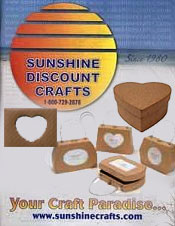 More About Paper Mache Crafts - Sunshine Discount Crafts:
Other great Sunshine Discount Crafts departments:
Starting with the same base, you can create simple or wild designs on the same type objects.


Great for kids' crafts - Inexpensive paper mache makes for perfect children's crafting projects. They'll love putting their personal stamp on sandal boxes, frames, eggs and magic wands.
Make your own gift containers - Why buy gift boxes, baskets and wine boxes when you can create your own? Decorate these paper mache items your way, making the art part of your gift.
Sunshine Discount Crafts offers paper mache crafts that children and adults can enjoy.