Catalogs.com Departments

News & Articles

Pen Kits - Penn State Industries
Pen kits for anyone who loves making pens
Pen kits offer you full creativity. You choose the kit and the style and make a unique, handcrafted writing instrument that you'll be proud to own or give away.


Enjoy the artisan's lifestyle - Why make it when you can buy it? Creating a wood or acrylic pen with your own hands fosters originality and imagination, qualities that you can't buy.... read more



Shop for pen kits




(offer expires: 12-18-2018)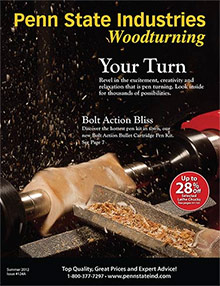 More About Pen Kits - Penn State Industries:
Other great Penn State Industries departments:
Using pen kits to create your own writing tools can inspire you in other artistic endeavors.


Pens in every style - With over 200 pen kits to choose from, you can make a pen for anyone you know, including yourself. Classic, designer, comfort, executive, traditional, sculpted, Olympian and funline are just some of the kit styles you can select. Create pens in any color, whether you prefer fountain, ballpoint or rollerball.
Great gift ideas - Not only can you present your unique pens as gifts, something anyone can use, but you can present them with pride. With so many different kits available, there's a style for everyone you know.
Penn State Industries carries pen kits in every style, color and design, perfect for the pen maker who longs to create art.