Catalogs.com Departments

News & Articles

Pen Turning - Penn State Industries
Pen turning supplies for all your pen making needs
For the creative pen maker, having the right pen turning supplies at your disposal makes all the difference.


Everything you need in one place - Instead of rounding up supplies from various sources, get them all in one place. From precision mandrels to lathe pen mandrel sets, find the supplies you need to finish your pen kits.



The right tools for the job - Having the right tools for pen turning makes your task easier.... read more



Shop for pen turning




(offer expires: 11-19-2018)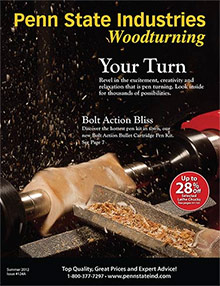 More About Pen Turning - Penn State Industries:
Other great Penn State Industries departments:
Pen blank drilling supplies include drill bits, drilling guides and super blank cutting systems. Buffing, sanding and polishing supplies add professional touches to your pen turning handiwork.


From beginning to end - Part of skillful pen creation is presentation. Don't let your end result be less than stellar due to poor arrangement. Pen boxes, cases and displays will enhance your creativity. Pair pen kits with displays according to style for the best presentation.
Let Penn State Industries supply you with all the pen turning needs you require to create the high-quality pens you desire.