Accelerated Online Classes - EducationCatalogs
Accelerated online classes help you get a degree faster
You don't always have to attend an expensive university for years until you get your degree. With accelerated online classes, you can earn a degree in your field of study in as little as 10 months.


For working adults interested in advancing in their careers, four year degrees can be out of reach. Instead, try accelerated online classes from well-known colleges, including Colorado Technical University, Kennedy-Western University, AIU Online and ITT Tech.... read more


This catalog is currently out of stock.


Please search through our categories for another catalog.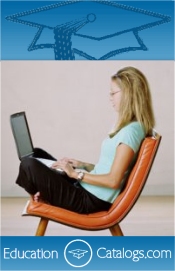 More About Accelerated Online Classes - EducationCatalogs:
Other great EducationCatalogs.com departments:
You can study a field you're interested in and get a degree on your own time.


What do you want to do with your career? You can study Business, Health, Design, IT, Education, Project Management and more through accelerated online classes that will earn you a degree in months, not years. Instead of waiting for advancement opportunities, create them yourself by advancing your education.
EducationCatalogs offers catalogs, brochures and information from a variety of distance learning institutions, allowing you to take accelerated online classes and earn a degree that leads to a more satisfying career.