Accelerated Online Programs - EducationCatalogs
Accelerated online programs get you a degree faster
Getting a degree should be attainable for anyone. For adults who want to earn an Associate's, Bachelor's or even a Master's degree on their own time, accelerated online programs help you to do just that in months, not years.


If you have a full-time job and a family to take care of, going to a traditional four-year college might not work for you.... read more


This catalog is currently out of stock.


Please search through our categories for another catalog.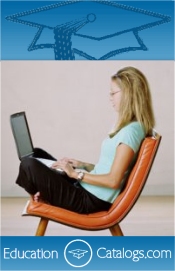 More About Accelerated Online Programs - EducationCatalogs:
Other great EducationCatalogs.com departments:
Instead, look at accelerated online programs available in fields like Criminal Justice, Health Administration, Nursing, Paralegal, Design and more. You'll be able to get your degree in as little as 10 months and be on your way to a more lucrative career.


Online programs can provide you with the education you want while allowing you to attend school on your schedule. This is perfect for the working adult who can't devote their days to classes. Online colleges like ITT Tech, Strayer University, Walden University and others offer accelerated online programs that will get you the degree you need quickly.
Let EducationCatalogs provide you with the information you need on accelerated online programs that can start you on the road to higher education that fits your schedule and your life.