Social Studies Activities - Learning Resources
Social studies activities helps elementary students learn
Teach all of the basic principles of social studies with fun and interactive social studies activities. Learning Resources offers a number of fun activities for students of almost every elementary school age.


Have fun in your class while they're learning about the United States with a fun and unique learning bingo game or teach them about the entire world with an interactive talking globe.... read more


This catalog is currently out of stock.


Please search through our categories for another catalog.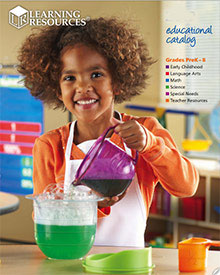 More About Social Studies Activities - Learning Resources:
Other great Learning Resources departments:
Social studies activities are a fun and effective way to teach children about other cultures and our own history.


Do you want to teach about what people around the world eat? Multicultural play foods offers a fun and entertaining collection of plastic foods including a croissant, spaghetti, tacos and more! Have your students guess which country each food comes from as they learn about the world around them!
After you've made use of all of the interesting social studies activities offered, test what your students have learned with amusing trivia games! Social studies is an important part of your school's curriculum. It can help students become more involved and curious about the cultures around them, as well as inspire them to become future sociologists, anthropologists and more!
Don't settle for boring worksheets and class projects! Implement fun and new learning techniques with unique social studies activities that are designed to teach and entertain the little learners in your class.