Catalogs.com Departments

News & Articles

Student Award Pins - It's Elementary
Student award pins reward achievement and success
Motivate students to reach greater heights with student award pins that reward them for their hard work. Kids will wear these colorful pins with pride!


When kids go above and beyond, it's nice to award them for their efforts. Student award pins cover a variety of areas, including honor roll, safety patrol, star students, reading success, attendance, citizenship, character, leadership and special awards.... read more


This catalog is currently out of stock.


Please search through our categories for another catalog.


- or -

Shop for student award pins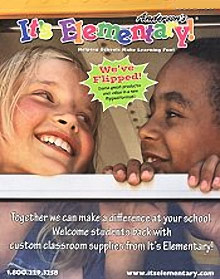 More About Student Award Pins - It's Elementary:
Other great Andersonís Elementary School departments:
Children can be even more inspired to try hard in school when they know they'll be rewarded for their efforts.


For students who've come a long way during the school year, student award pins are a wonderful way to show how proud you are of their achievements. A child who's made great strides in reading, math, penmanship or any other subject area will appreciate the acknowledgment during awards ceremonies and school assemblies. Teachers and principals can use these pins as motivation and inspiration!
It's Elementary supplies teachers and educators with a variety of student award pins that reward hard workers in a beautiful way.