3B Scientific - Science Education
Human Anatomy, Anatomical Charts, Biology, Chemistry, Health Education, Earth Science, Lab Equipment & Supplies, Career Tech, Physics & Experiments, Zoology
At 3B Scientific, they believe teachers, using their interactive models and experiments, will not only enable students to retain knowledge, but inspire and invoke a sense of curiosity in them.
What's Inside:
Human anatomy - 3B Scientific has been setting quality standards in manufacturing didactic material for medical education since 1948. Today, the brand is represented in over 120 countries worldwide with local offices in Germany, Hungary, USA, Japan, France, China, Italy, Spain, United Kingdom, Russia, Brazil, Thailand, South Korea and Turkey.
Health education - High quality and functional products to educate about common health risks and diseases. Ideal for educating patients and for student training.
Career tech - Reliable simulators for basic, intermediate and advanced clinical skills training.
• Basic life Support
• advanced life Support
• airway Management
• advanced trauma life Support
• Rescue training
• Choking / CPR
• Injection / Venipucture
• Bandaging / Suturing
• Bloood Pressure training
• Patient Care
• AlS Manikins
Charts & posters - Anatomical wall charts and posters from 3B Scientific are ideal for teaching human anatomy and for patient education.
Biology - 3B Scientific is more than just human biology! Learn about zoology with our animal skeletons and animal models. Botany models, including cellular and molecular models, are great for engaging students in group and hands-on learning. And what science lab would be complete without student microscopes, and experiment supplies?
Earth Science - The earth is the only planet known so far on which higher forms of life exist. Many factors, including the inner structure and the outer form, contribute to this. To better understand our environment, we have developed interesting new products, working with renowned experts, and have summarized them on the following pages.
Chemistry - Students will gain hands-on experience in the fundamentals of chemistry by constructing models of organic and inorganic structures representing numerous chemicals, molecules, crystals and other compounds. Build hundreds of different structures while gaining an understanding of elemental particles.
Physics - At 3B Scientific, we believe hands-on, inquiry-based education lies at the heart of producing new generations of creative, impassioned scientists that are destined to make the world a better place.
---
You might also like these Education & Supplies catalogs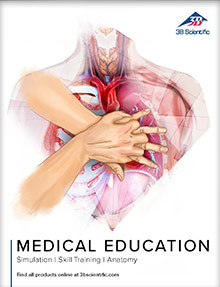 3B Scientific - Medical Education
Stock your biology classrooms with a wide selection of human anatomical models, and charts from 3B Scientific - Medical Education