Batteries and Adapters - American Science & Surplus
Batteries and adapters power your everyday gadgets
In today's world, a large percentage of our high tech gadgets run on rechargeable batteries. From your handy cell phone to your convenient GPS system, batteries have become an integral, necessary part of everyday life. With the large selection of batteries and adapters offered by the geniuses over at American Science & Surplus, you'll never have to worry about being without your precious gadgets.... read more


This catalog is currently out of stock.


Please search through our categories for another catalog.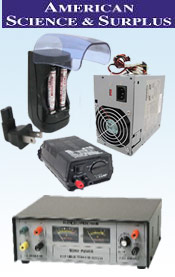 More About Batteries and Adapters - American Science & Surplus:
Other great American Science & Surplus departments:
Browse a seemingly endless collection of power cord adapters that can recharge your laptop, gaming device or even mp3 player! Before you visit the expensive appliance or computer store, take a look at the low prices offered on these dependable batteries and adapters.



Are you looking for traditional power supply components? Or perhaps you're working on becoming a little greener? With solar cells of various shapes and model types, you're sure to find the one that fits your environmentally conscious lifestyle!



Find a highly reliable Lithium battery that has a 15 year shelf life! Lithium batteries are perfect for GPS navigation systems, certain MP3 music players and portable gaming devices. Don't settle for imitators, get reliable lithium batteries and adapters today!



Keep your world turning with reliable batteries and adapters. From powering your "must-have" cell phone to charging up your lifeline of a laptop, you're sure to find what you need in the large selection of power supply adapters and batteries available.