Catalogs.com Departments

News & Articles

Birthday Party Cakes - David's Cookies
Birthday party cakes complete a fantastic party
You can't have a birthday party without birthday party cakes! Find a yummy assortment of cakes from David's Cookies and treat the birthday boy or girl to a delicious dessert.


Delectable in looks and taste - Combine chocolate fudge, butter and fresh milk for a birthday cake whose taste will thrill. However, you might find yourself reluctant to cut into such a beautiful dessert.... read more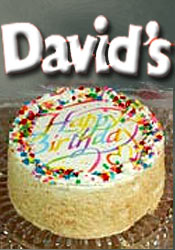 More About Birthday Party Cakes - David's Cookies:
Other great David's Cookies departments:
Expertly applied frosting and attention to every luscious detail make these birthday party cakes as good to eat as they are to look at.


An array of scrumptious choices - What will you choose? Try vanilla cake, banana caramel, Rocky Mountain mudslide and white chocolate lace for starters, but there are many more. Celebrate every birthday with the decadent party cakes you'll find here.
Be the perfect host or hostess - Let this gourmet dessert tempt your guests while you entertain without worry. When you grace the table with gorgeous birthday party cakes like this, you're free to mingle and have fun while your guests compliment you on your superb dessert.
Birthday party cakes add to the celebration, so why not choose the most beautiful and delicious cake you'll ever find?