Catalogs.com Departments

News & Articles

Buffalo Meat Products - Burgers' Smokehouse
Buffalo meat products are a tasty addition to any kitchen
Now you can enjoy the appetizing taste of buffalo meat products delivered right to your door. If you've never tried bison before, you'll be pleasantly surprised!


Want a meat that contains less cholesterol than chicken, but is just as delicious? Then try American bison meat from Burgers' Smokehouse. Buffalo meat products provide you with the protein you need, but with less fat than turkey and chicken.... read more


This catalog is currently out of stock.


Please search through our categories for another catalog.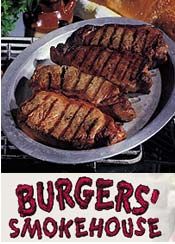 More About Buffalo Meat Products - Burgers' Smokehouse:
Other great Burgers' Smokehouse departments:
This can be a nutritious addition to your kitchen, allowing you to expand your options when it comes to what to eat and serve.


There are plenty of ways to enjoy buffalo meat products, including filets, buffalo burger patties, ribeye steaks, wild game sausage samplers or a buffalo sampler. You can try a little of everything to see what you like the most. Best of all, this delicious meat is delivered right to your door. You have convenience and taste!
Experience the flavor of buffalo meat products and you'll definitely come back for more.