Quick Steak Dinners - Hitching Post Steaks
Quick steak dinners are convenient and delicious
Anytime you want a superb gourmet meal that's full of flavor but without all the work, serve quick steak dinners from Hitching Post Steaks and enjoy a meal fit for a king!


With heat and serve meals, you can sit down to a fully prepared dinner without slaving over a hot stove for hours. Instead, after a long day spent at the office or chasing after kids, eat quick steak dinners that don't even require thaw time.... read more


This catalog is currently out of stock.


Please search through our categories for another catalog.


- or -

Shop for quick steak dinners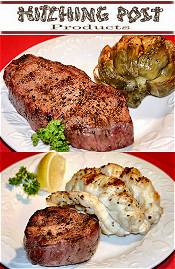 More About Quick Steak Dinners - Hitching Post Steaks:
Other great Hitching Post Steaks departments:
By the time you've freshened up for dinner, a gourmet meal awaits. Not a chef? Not to worry. All you need to know how to do is boil water!


Do you love filet mignon, New York strips or would you prefer some surf and turf? You'll find all of these tempting selections among the quick steak dinners that come delivered right to your door. If friends and family call with last-minute drop in plans, serve these prepared meals in no time flat. They'll think you've spent half the day in the kitchen!
Whether you're short on time or just want someone else to handle the cooking for you, quick steak dinners are a great way to have a delicious meal conveniently and easily!