Catalogs.com Departments

News & Articles

Outdoor Grilling Utensils - Brookstone
Outdoor grilling utensils make grilling easy and fun
Get ready to fire up the grill and barbeque some outstanding food this season with outdoor grilling utensils that will turn you into the neighborhood BBQ pro.


Instead of searching for the right tools every time you're ready to grill something delicious, use outdoor grilling utensils that come in a handy, convenient set. A 10-piece tool set contains everything you need to accompany your BBQ grill, including a spatula, tongs, fork, basting brush, knife and so much more.... read more


This catalog is currently out of stock.


Please search through our categories for another catalog.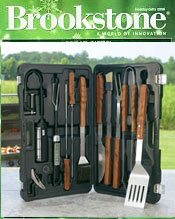 More About Outdoor Grilling Utensils - Brookstone:
Looking for the perfect gift for the guy who loves to show off his BBQ skills? Outdoor grilling utensils make a great present for the charcoal chef. He'll have all that he needs close at hand in durable, heat resistant stainless steel. An attractive case provides storage as well as an easy way to present this unique gift. Don't be surprised if you're invited to a barbeque every weekend!
Brookstone provides a selection of outdoor grilling utensils and tool sets that any avid griller would love to own, even if that grill enthusiast is you!