American States Flags - Armstrong Flag Company
American states flags are great for showcasing patriotism
Proudly display your love of country and state with the attractive American states flags from Armstrong Flag Company. Indoors or out, your handsome flags are sure to be noticed and admired.


It doesn't matter where in the United States you live. There's a state flag for you! North, South, East, West and even U.S. territories are represented.... read more


This catalog is currently out of stock.


Please search through our categories for another catalog.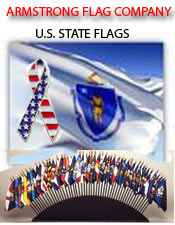 More About American States Flags - Armstrong Flag Company:
Other great Armstrong Flag Company departments:
These American states flags are fashioned in vibrant colors on nylon, finished with heavy canvas and brass grommets. You choose the size, depending on your needs and where you want to display your impressive flag.


Flag sets are also available for these American states flags. You can select a mounted set, set with stand or outdoor setup. Display one indoors and one outside. Or, if you're a transplant who misses your home state, then buy one for your current home and one for your favorite! These beautiful flags will showcase your patriotism day and night.
Whether you're in the continental 48 or not, or you claim a U.S. territory as home, there are American states flags that represent you!