Catalogs.com Departments

News & Articles

Decorative Garden Accents - Colorful Images
Decorative garden accents make your outdoor space beautiful
Turn your garden into a serene space with decorative garden accents that are unique, beautiful and welcoming.


When warm weather beckons, you want to enjoy your patio, deck or garden area. Decorative garden accents put your personal touch on the outdoors. Choose from such fun decor as a welcome frog, garden gnomes, climbing cat wall art, chickadee welcome flags, animal pot hangers, silver camper birdfeeder, fat cat sculptures and more.... read more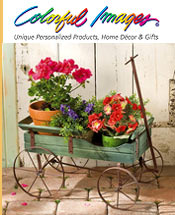 More About Decorative Garden Accents - Colorful Images:
You and your guests will feel sheer joy each time you sit or entertain.


Decorative garden accents add a lovely touch to outdoor living spaces. Floral wreaths, a rose topiary, butterfly windsocks, mosaic turtles, garden rocks and seashell planters are just a few ways to outfit a garden area, turning it into an inviting retreat. Whether you love flowers, animals or whimsical sculptures, you'll find just what you need at Colorful Images.
Don't forget the outside when decorating your home! With decorative garden accents, your house will showcase its unique charm inside and out.