Catalogs.com Departments

News & Articles

Memorial Flags - Carrot Top Industries
Honor your fallen heroes with memorial flags
Honor those who have given their lives for our freedom. Beautiful, hand made memorial flags are a wonderful way to pay tribute to the men and women who have paid the ultimate price for the United States of America.


Carrot Top Industries offers a wide variety of memorial and dedication products including plaques, military seals, mourning lags and more.... read more


This catalog is currently out of stock.


Please search through our categories for another catalog.


- or -

Shop for memorial flags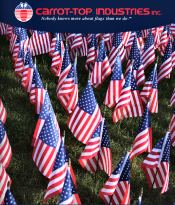 More About Memorial Flags - Carrot Top Industries:
Other great Carrot Top Industries departments:
Browse a selection of high quality flag cases made from oak, maple and vinyl materials. These beautiful carrying cases will allow you to proudly display your beautiful memorial flags.


Each of the beautiful memorial flags is lovingly hand stitched and embroidered with stunning stars. You're sure to appreciate the hard work, craftsmanship and attention to detail that each lovely flag offers. Show your dedication to your loved ones who are serving in the military with bronze military seals or proudly hang a display flags.
Memorial flags allow you to show your pride for your country and the brave loved one who was selfless enough to serve under the stars and stripes. Mourning bunting and fans are a heartfelt and traditional way to show respect for those who have passed on. Browse a selection of beautiful, high quality memorial flags or cemetery