Catalogs.com Departments

News & Articles

Oversized Portable Hammock - Brookstone
An oversized portable hammock is great to relax in
Set up your own oversized portable hammock anywhere in your yard for an easy way to relax during lazy summer afternoons.


Park an oversized portable hammock under your favorite shady tree and you can spend an entire day relaxing in comfort. Spring and summer afternoons are a great time to laze away, but you can also enjoy your rope hammock after a stressful week at the office.... read more


This catalog is currently out of stock.


Please search through our categories for another catalog.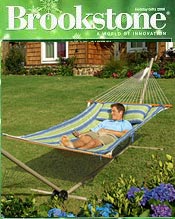 More About Oversized Portable Hammock - Brookstone:
Leave worries behind with the soft, swaying motions of a hammock.


Read a book or invite your favorite people to share your oversized portable hammock. Have a cool drink nearby and read or just watch the clouds float by. A deluxe stand, hammock and pillow combine to make an attractive and comfortable resting spot. You'll get fresh air, feel the breeze on your face, maybe even doze off and sleep like a baby.
Brookstone has the perfect oversized portable hammock for you, ready to set up in a backyard, on a porch or patio deck -- anywhere you want to relax in comfort and peace.