Catalogs.com Departments

News & Articles

Bunnykins Collection - Pascoe
Find a Bunnykins collection full of discontinued treasures
Are you looking for a particular Bunnykins that's been hard to find? If so, you may find the exact figurine you're searching for among the discontinued Bunnykins collection at Pascoe. These whimsical and adorable collectibles will thrill Royal Doulton and Bunnykins enthusiasts with their wide variety of personalities. From elegant, classic and larger-than-life to everyday figures, you'll find the perfect Bunnykins to complete your collection right here.


A huge Bunnykins collection - These discontinued figurines are absolutely delightful, so get them before they're gone for good! Complete an existing collection or start one now. Bunnykins are adorable and whimsical, the perfect touch to add to any home. You'll enjoy them in any room for years and years. Parents or grandparents can pass these lovely figurines down to cherished family members.


... read more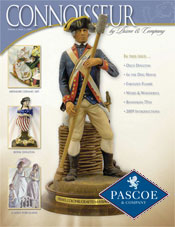 More About Bunnykins Collection - Pascoe:
Other great Pascoe - Royal Doulton Collectibles departments:
Fun and fanciful - A Bunnykins collection is full of amusement and entertainment. Made to resemble famous people throughout history, you can't help but be delighted by the exquisite detail and careful touches. Dressed in finery or the latest sports wear, these collectibles will add joy to a curio cabinet, coffee table, side table or shelf.
Favorite Bunnykins characters - Choose from figurines in the Bunnykins collection that includes famous figures such as Alexander Graham Bell, Abraham Lincoln, George Washington or Sir Isaac Newton. There are also Bunnykins that represent soccer players, baseball stars, football players, graduates, tennis stars, teapots, Christmas, deep sea divers, boy scouts, ringmasters, nurses, potters, magicians and much more!
Looking for the perfect piece to complement a room? Your search is over! You'll enjoy perusing the many fun Bunnykins you'll find here. Even more, you'll love adding them to your collection of fine figurines. These discontinued collectibles are sure to add value and beauty to your home, where they'll be treasured for years to come.