Catalogs.com Departments

News & Articles

Custom Photo Creations - Add A Link Of Charm
Custom photo creations are uniquely yours
Personalize a variety of accessories with beloved photos. Now moms, dads, grandparents, aunts, godparents, siblings and more can have custom photo creations on everyday items that are carried everywhere. With pictures of precious children and loved ones always by your side, you'll enjoy looking for those keys, phone or just pulling up a zipper!


A variety of custom photo creations - You can always carry around the grandkids' pictures in a wallet, but you can also place those adorable faces on other accessories such as key chains, cell phone charms, dog tags, key finders and Italian charms.... read more


This catalog is currently out of stock.


Please search through our categories for another catalog.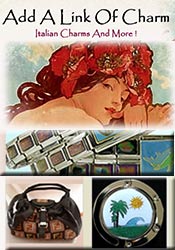 More About Custom Photo Creations - Add A Link Of Charm:
Other great Add A Link Of Charm departments:
Every one of these items will be made unique and special to you. Add A Link Of Charm adds a charming touch to these accessories and more!


Great for gift giving - These custom photo creations make a wonderful and thoughtful present for various occasions throughout the year. Buy one for every woman or man in the family! Grandparents will get a real kick out of seeing their grandkids' faces on key chains and zipper pulls. Perfect for Mother's Day, holidays or just because.
A unique touch to everyday items - Forget having a boring and plain old cell phone that can be confused for anyone else's. Now you can personalize it with your own photos. From cell phone jangles to purse hooks, you'll smile every time you see the precious faces of your children, grandchildren or loved ones smiling back at you. With these customized options, you can personalize these everyday accessories to make them uniquely yours.
When you're looking for custom photo creations that will put a personal touch on key chains, purse hooks, dog tags, cell phones, Italian charms, zipper pulls and more, you'll find just what you need right here. Customize your items with the faces you love to see every day!