Catalogs.com Departments

News & Articles

Engraved Music Boxes - Music Box Attic
Engraved music boxes make a wonderful personal gift
For the ultimate in personalized gifts, consider engraved music boxes as a unique present that any music and jewelry box lover will always treasure.


When you want a gift that's truly one-of-a-kind, you can't go wrong with personalized music boxes. These special presents are perfect for a variety of gift-giving occasions, including birthdays, Christmas, anniversaries, weddings, retirements, baby showers, christenings, baptisms, bar or bat mitzvahs, family reunions and much more! Engraved music boxes combine elegance and customization for a personal touch.... read more


This catalog is currently out of stock.


Please search through our categories for another catalog.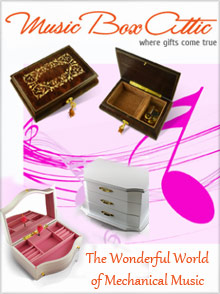 More About Engraved Music Boxes - Music Box Attic:
Other great Music Box Attic departments:
Music Box Attic prides itself on its quality and exquisite music boxes. With such a huge selection, you can find the perfect design for anyone. Engraved music boxes are sure to be treasured for many years to come, whether you give them to parents, grandparents, siblings, lifelong friends or anyone who appreciates the gift of music.
When you want to make a musical jewelry box even more distinctive, consider engraved music boxes as unique and delightful presents for those special people in your life.