Figurines and Statues - Pyramid Collection
Figurines and statues add new age decor to your home
Fantasy, whimsy and mythical creatures are your passions, so decorate your home with new age figurines and statues that are sure to lend a fantastic air to every room.


You love crystals, fairies, dragons, wizards, unicorns and myths. Now you can have figurines and statues that reflect your interests. Delicate and airy, or bold and domineering, these figures are detailed works of art that can complete a collection or stand alone.... read more



Shop for figurines and statues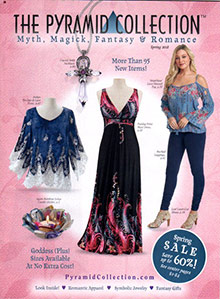 More About Figurines and Statues - Pyramid Collection:
Other great Pyramid Collection departments:
Find sculptures and statues of dragons, skulls, fairies, angels, Buddha and more!


For fairie fans, there are many variations of fairie figurines and statues, such as misty blue bubble, winter masquerade, mask of autumn, white magic, dark skies bubble, enchanted moon, spring, jasmine, magic moonstone, moon flower and many more. You'll also find dragon sculptures that are majestic and imposing, perfect for bookshelves, curios and cabinets.
Pyramid Collection carries a fantastic variety of figurines and statues that will add a touch of new age flair to any room of your home!