Catalogs.com Departments

News & Articles

Military Award Display - United Displays of America
A military award display celebrates distinguished military careers
Instead of putting your medals and awards away, showcase them in a military award display so that everyone can see how well you served your country.


If you've always wondered just how you could exhibit your special military medals, here's the perfect solution: a military award display in the form of a beautifully crafted large, glass top table.... read more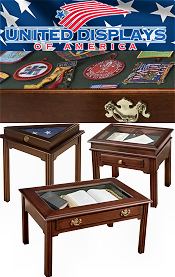 More About Military Award Display - United Displays of America:
Other great United Displays of America departments:
Your awards will be protected, but fully visible along with the American flag. This is a wonderfully patriotic showpiece that will add to any home's beauty.


Customize your military award display table for your particular branch of the armed forces, including Air Force, Navy, Army, Marines or Coast Guard. A distinctive bronze plaque is available for each, allowing you to create a special display that celebrates your time spent serving your country in a honorable way.
United Displays of America is proud to present the perfect military award display piece for any military member or real patriot.