Catalogs.com Departments

News & Articles

Royal Doulton Collectibles - Pascoe
Royal Doulton collectibles are the perfect treasures
Maybe you're looking for a rare and very valuable Royal Doulton figurine. You might be looking for discontinued Royal Doulton collectibles, but where can you find them? At Pascoe, you'll find a huge selection of beautiful Royal Doulton pieces, statues and figurines perfect for completing your very own collection.


Royal Doulton collectibles - These gorgeous items vary in age and condition, but they're all discontinued. Once they're gone, they're gone, so why not select from these exquisite pieces while you can? From finely detailed figurines that depict many aspects of childhood and adulthood, you'll enjoy looking at your Royal Doulton collectibles for years to come. Representing different eras and characters, these figurines are sure to be a delight.


... read more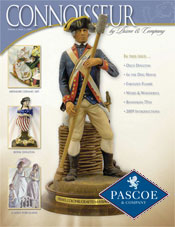 More About Royal Doulton Collectibles - Pascoe:
Other great Pascoe - Royal Doulton Collectibles departments:
Rare and valuable - You won't find these Royal Doulton pieces just anywhere. Choose from the large variety you'll find here and enjoy having a unique collectible that's the envy of serious collectors. Complete your elegant collection or simply add a beautiful piece or two to your home. Once you begin buying Royal Doulton figurines, you may find it difficult to stop! These whimsical and wonderful collectibles are for the real enthusiast.
Choose your favorites - Do you love the ethereal beauty of the many female Royal Doulton collectibles? Does the childlike innocence on the littlest figurines move you? Whatever you love in collectibles, there's a Royal Doulton piece just for you. Place these gorgeous collectibles in curios, on tables, on shelves or anywhere you want to add beauty and elegance to your home.
When you find the right piece, you know it. You may find just the discontinued figurine you've searched for right here, among the many exquisite choices. Not only will these make wonderful additions to any collection, they also make the perfect gift for loyal Royal Doulton fans.