Catalogs.com Departments

News & Articles

Royal Doulton Jugs - Pascoe
Royal Doulton jugs are whimsical and fun collectibles
Get these fantastic discontinued Royal Doulton jugs while you can! You'll find a huge selection of character jugs that will make you smile every time you see them. Collect them, give them as gifts to Royal Doulton fans or place them around your home for a whimsical touch to any room. See what Pascoe has to offer in the way of fun and fanciful!


Royal Doulton jugs will bring a smile to your face - These discontinued character jugs are made for fun.... read more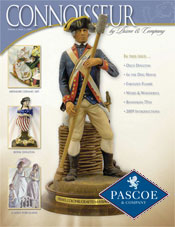 More About Royal Doulton Jugs - Pascoe:
Other great Pascoe - Royal Doulton Collectibles departments:
They can be the perfect conversation piece to spark entertaining discussion. Place them in curios, on side tables, on coffee tables or on shelves. They're sure to spark interest and delight for everyone, no matter where they go.


Choose your favorite characters - Who are your favorite characters? Chances are, you'll find Royal Doulton jugs that feature them. Find jugs here representing Alfred Hitchcock, Mae West, Mark Twain, the Three Musketeers, Napoleon Bonaparte, Neptune, Merlin, Tony Weller, the Town Crier and Wild Bill Hickock, just to name a few!
Collect or give away - While you can certainly add these entertaining Royal Doulton jugs to your own personal collection, you're sure to find some that fit a friend or loved one's unique personality. You may find it hard to give one of these fun collectibles away, but they will definitely be treasured for years to come! These are perfect for fathers, grandfathers, uncles, sons or anyone in your life who appreciates such a fine and thoughtful gift.
Complete your collection or start one! The wide variety of jugs you'll find here are discontinued and valuable. Are you a true Royal Doulton collector? Then you can't be without these fanciful and fun character jugs! Make sure you choose the styles you want before they're gone for good.