Catalogs.com Departments

News & Articles

Smokey Bear Collectibles - Woodland Catalog
Smokey Bear collectibles are wonderful and fun displays
Fill your home with the warm and comforting image of Smokey Bear with Smokey Bear collectibles that will bring a smile to your face every time you look at this familiar figure.


He stands tall and proud, an image of forest safety. Now you can bring him home with a variety of Smokey Bear collectibles, such as figurines, bronze male or female firefighters, pencil holders, ornaments, picture frames, statues, awards, banks and more.... read more


This catalog is currently out of stock.


Please search through our categories for another catalog.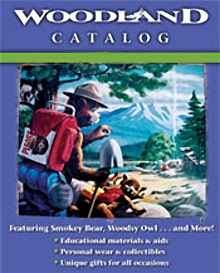 More About Smokey Bear Collectibles - Woodland Catalog:
Other great Woodland Catalog departments:
He'll remind you of his tireless dedication to fire safety, sparking you to action in protecting our forests.


A Smokey and cubs figurine or Smokey with a sign reading "Prevent Wildfires" are reminders for each of us that fire prevention is in our hands. These finely detailed Smokey Bear collectibles will look fantastic in any home. If forest safety is an important issue for you, you'll love these figurines that really bring this lovable bear to life.
Woodland Catalog carries a selection of Smokey Bear collectibles that are warm, friendly and very familiar, perfect for anyone who knows preventing fires is up to each one of us.