Energy Efficient Home Products – Alternative Energy Store
Go green with energy efficient home products
Start saving money today with energy efficient home products that help you cut costs despite rising fuel and electricity costs. Now is the time to conserve energy and keep money in your pockets with home products that are good for the environment.


Keep food cold - Energy consumption for the average refrigerator is sky high compared to energy efficient home products by Sun Frost.... read more


This catalog is currently out of stock.


Please search through our categories for another catalog.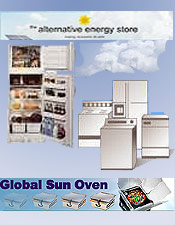 More About Energy Efficient Home Products – Alternative Energy Store:
Other great Alternative Energy Store departments:
You can now power your home with low output energy sources when you use these products. In addition, Sun Frost offers extra amenities that are often not found in conventional refrigerators such as high humidity storage, ultra-quiet operation and an easy-to-clean interior.


Heat it up - Did you know that you can cook food with the power of the sun without using fuel? Well, you can with the Global Sun Oven. This solar powered appliance can reach temperatures of 360 to 400 Degrees Fahrenheit! Energy efficient home products, such as sun ovens, are portable like small suitcases and have been adopted by everyone including governments in developing countries, micro-bakeries in Honduras, and ice fishermen in Minnesota.
Extra storage space - In addition to making high efficiency refrigerators and freezers, Sun Frost also makes cabinet stands. These cabinet stands fit conveniently under your refrigerator, thereby elevating the appliance to a more convenient height. Use energy efficient products to save money.