Catalogs.com Departments

News & Articles

Organic Hair Shampoo - Janice's
Get clean the natural way with organic hair shampoo
Are you tired of not being able to pronounce half of the ingredients on your shampoo bottle? It's time to make the switch to Janice's Own organic hair shampoo and conditioner.


Organic shampoos, conditioners and soaps offer unlimited health benefits and allow you to make sure you're not putting any harmful chemicals into your body. Whether you're an organic pro or just taking your first steps into living naturally, organic hair shampoo is a great way to start.


... read more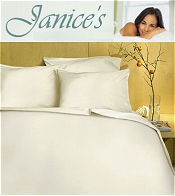 More About Organic Hair Shampoo - Janice's:
Other great Janice's departments:
Organic hair shampoo does not contain harmful dyes, perfumes or chemicals that will negatively affect your health. You'll be able to use this shampoo on even the most gentle and sensitive of scalps without worrying about adverse effects! Organic hair shampoo, conditioner and body are a great gift for the lovely lady in your life.
If you eat organic and wear organic clothes, why not wash organic too? Regular salon shampoos are high priced and contain mystery ingredients that can irritate sensitive skin. With organic hair shampoo, you'll be able to actually pronounce the names of the ingredients you're putting on your body!
Stop going to the salon and spending hundreds of dollars on products that are jam packed with chemicals. Wash organically with cleansing organic hair shampoo and conditioner that will leave your hair clean and feeling healthy! Unlike store shampoos, organic hair shampoo doesn't leave a nasty film on your hair. These high quality organic hair shampoos will fully cleanse your hair from scalp to tip.