Cool Walking Canes – ELDERLUXE
Cool walking canes and more for all walks of senior life
They say age is a state of mind. At Elderluxe, it's a state of style, comfort, freedom and independence. If you're one who's always been fashion forward and in step, you'll appreciate all that Elderluxe has in store, including cool walking canes and distinguished walking staffs. Also find mobility scooters, lift chairs, senior fitness equipment, hearing and vision accessories, luxury gifts for seniors…and so much more.


Discover cool walking canes for every walk of life --Who would have thought there could be so many types of walking canes and walking staffs to consider? Not to worry. At Elderluxe, you'll find it all: oak crook canes, derby canes, folding carbon fiber canes, travel walking canes, trekking poles, KEEN® Quest Canes, soft touch canes, hammered silver cap canes, organic bamboo walking canes, and the list of cool walking canes goes on.... read more


This catalog is currently out of stock.


Please search through our categories for another catalog.


- or -

Shop for cool walking canes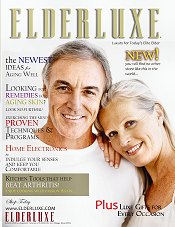 More About Cool Walking Canes – ELDERLUXE:
Other great ELDERLUXE departments:
Getting around can be a breeze once again in a mobility power scooter – Elderluxe has the corner on luxury scooters that can give you the freedom and mobility you deserve. You'd be amazed the difference a mobility scooter can make in your life, whether your goal is getting around town, or simply getting around the house with greater ease.
Keeping active seniors going strong -- Today's seniors are exercising their bodies and minds like never before. Find senior-friendly fitness and spa equipment for therapeutic yoga, safe and effective strength training, aqua aerobics, mind fitness and more.
Shop one of the leading websites for seniors who want to enjoy their active, independent lifestyle with panache and flair -- With everything from cool walking canes and walking staffs of every style, to empowering mobility scooters and ergonomic and safety products that make seniors feel right at home again.