Catalogs.com Departments

News & Articles

Feet and Leg Massager - Brookstone
A feet and leg massager is a great way to relax
Sit back and let your feet and leg massager do the hard work for a change. You'll be able to relax in comfort while your tired muscles get the pampering they deserve with this rejuvenating treatment only from Brookstone.


A feet and leg massager is the perfect solution for aching calves and feet. If you spend a lot of time standing or walking, slip into the soothing vibrating motions of this massager and feel aches and pains slip away.... read more


This catalog is currently out of stock.


Please search through our categories for another catalog.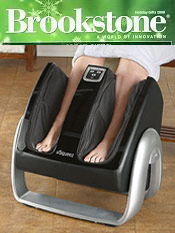 More About Feet and Leg Massager - Brookstone:
You can choose automatic settings or custom design your massage so it's just the way you like it.


Start at your toes and work your way all the way up with technology based on reflexology. Stimulating special parts on your feet have a positive affect over your entire body, something not every feet and leg massager can do! Enjoy the relaxing benefits not only on your tired calves and feet, but soothe and calm yourself all over for a complete relaxation treatment that you can do right at home.
A feet and leg massager works on more than just aching legs and feet. The deep kneading and powerfully soothing actions will relax all of you, making it more than just a treat for your feet.