Catalogs.com Departments

News & Articles

Massaging Lounge Topper - Brookstone
A massaging lounge topper is good for relaxing you
Come home from a long day and unwind without having to do a thing. A massaging lounge topper transforms any lounge chair into a relaxing experience.


If you can't get to a masseuse, then bring one to you! A massaging lounge topper is a soothing treat for tired muscles and your body's aches and pains. Ten motors work to knead and relax your entire body, but if you want a spot massage, choose that option instead.... read more


This catalog is currently out of stock.


Please search through our categories for another catalog.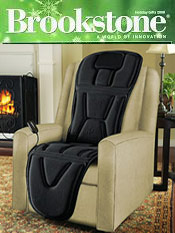 More About Massaging Lounge Topper - Brookstone:
Turn on the heat for an even more pampering experience.


Don't want to sit up? Then lie down on the sofa. A massaging lounge topper not only works on loungers, but on flat surfaces as well. Large, comfortable cushions provide support as you enjoy your relaxing treatment. Your body will feel better and you'll be energized to enjoy the rest of your evening.
Get a massaging lounge topper from Brookstone today and enjoy all of the soothing relaxation it provides when you need to unwind at home.