Catalogs.com Departments

News & Articles

Decorative Home Ideas - Colorful Images
Decorative home ideas make your home more beautiful
Your home should reflect your unique style, so choose decorative home ideas that match your home's personality and design. For every room of your house, there are decorative items sure to make it one-of-a-kind and a perfect reflection of you!


From the kitchen to the bedroom, you'll find decorative home ideas that will make any room special.... read more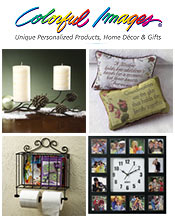 More About Decorative Home Ideas - Colorful Images:
Choose bath accessories, books, calendars, candles, clocks, cookbooks, games, puzzles, magnets, list pads, organizers, albums, plaques, stuffed toys, throws, blankets, pillows and more! Outfit a master bedroom as well as a child's playroom with the huge variety of decorative home ideas from Colorful Images.


What's your home's style? Is it traditional or modern? Funky or elegant? There are home decor items and accessories designed to match any home's interior and exterior. You'll enjoy your backyard and garden more when you decorate them with outdoor items like floral wreaths, colorful windsocks, fun doormats, birdfeeders, mosaic sculptures, garden wagons, wall arts, garden gnomes and so much more!
Inside and out, your home will express your unique style with decorative home ideas that are elegant, classic, fun and fantastic!