Catalogs.com Departments

News & Articles

Home Office Items - Current
Home office items are great for organization and personalization
You want a home office to reflect your unique sense of style, so choose home office items that will do that. With so many options in home office decor, you're sure to find the perfect pieces that express your personality!


What's your personal style? Are you whimsical or more subdued? Classic and elegant or modern and eclectic? Whichever style you prefer, Current has home office items that will fit into your particular office.... read more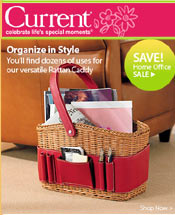 More About Home Office Items - Current:
Choose from items like calendars, calling cards, desk organizers, file folders, mouse pads, file labels, personalized stationery, notepad sets, memo cubes, diecut folders, file cases, bookmarks, receipt organizers and more!


Do you want personalized home office items? If so, you'll find them right here as well as desk accessories and organizers to keep everything in its place. Handy cell phone holders are fun items featuring hands, while M&Ms computer screen cleaners feature the sweet candies in a fun way. Your home office can be your workday oasis when you surround yourself with supplies and accessories that reflect the real you.
Forget home office items that are generic and the same everywhere! Instead, choose home office decor that expresses a bit of your personality in every piece.