New Age Decor - Pyramid Collection
New age decor is perfect for new age enthusiasts
You want your home to reflect your unique view of the fantastic, of realms outside of your own. New age decor is perfect for new age enthusiasts who want to showcase their individual style and beliefs.


Throw a sense of whimsy about with new age decor that features the mythical and the mystic! Choose from decorative accents like a zenergy crystal chime, butterfly garland, chakra candleholder set, vampires welcome mat, moon goddess wall pentacle, tree of life tapestry, black dragon wall display, secret book boxes, purple star chime, ionic rock salt lamp, crystal balls, prisms and much more!



From amusing to dramatic, new age decor is perfect for any room of your home.... read more



Shop for new age decor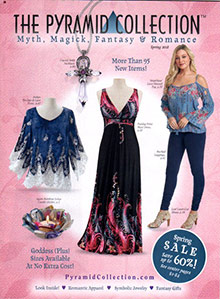 More About New Age Decor - Pyramid Collection:
Other great Pyramid Collection departments:
Whether your passion is the tarot, dragons, fortune telling, fairies, unicorns or Wicca, you'll find unique and intriguing decorative accents that are sure to make your home one-of-a-kind. Delicate and light or imposing and dark, this new age decor works for all fantasy enthusiasts!

Pyramid Collection has home decor that will fit into any room, perfect for adding a unique vibe that's out of this world!