Christmas crafts - part I
Christmas crafts for all ages
To make your holidays a little easier, we're detailing some great Christmas crafts that will appeal to your entire family – young and old alike. They're quick and relatively easy to do and will definitely add to your festivities.
1. Pasta Angel
Use these instructions to make a tiny angel using noodles. A great Christmas tree ornament that will bring a smile to the face of anyone who sees it.
Materials Needed:
Elbow macaroni Bowtie pasta Ziti noodles (this looks like a giant macaroni with groves on the outside with an arch in it) Gold pipe cleaners White and gold paint Medium sized clear faceted balls or round wooden balls with a face Glue gun and sticks Paintbrush Glitter (optional) Ribbon (so they can hang from the special spot, silly)
Instructions: Step one: Paint the elbows and ziti white. We use Apple Barrel brand paint, easy clean up. Paint bowties gold or glittery silver. Step two: Cut each gold pipe cleaner into four equal parts.
Make loop and twist ends together, to look like a halo, stick twisted ends into the hole at the top of the ball, this should look like the halo over a head. Step three: Take a length of ribbon and make a loop big enough to fit over the tree branch or the place where it will hang. Glue it to the bowtie, and then glue the wings on the ziti in the small arch. Glue two elbows to sides but letting them touch in the front of angel.
Step four: Put glue on upper mouth of ziti (the one closest to the wings) and attach the head. Let dry and voila, you have a pasta angel! You'll want to keep this one in your list of favorite Christmas crafts.
2. Christmas Angel Tree Topper
Materials Needed: • Construction paper (any color) • Ribbon • Foil • Cereal box • Cotton balls • Glitter • Sequins • Empty paper towel roll • Hot glue gun and sticks • Scissors • Markers
Instructions: Cut out a circle from construction paper. Using a marker draw the face. Once done start gluing cotton balls on to paper towel roll as many as needed. Take cereal box and draw the wings. Keep both wings as one piece. When wings are cut out, wrap foil around the wings. Glue wings to the back of the paper towel roll. Once wings are glued, glue the head on front of the paper towel roll. Cut pieces of ribbon for the hair - using scissors to curl the ribbon. Glue the ribbon on the head. Once head is glued, use cotton balls to go down the wings for the arms. Once done, decorate your angel with glitter and sequins and you've got another addition to your collection of great Christmas crafts.
3. Happy New Year Horn – made out of a toilet tissue roll.
Materials Needed:
Cardboard Paper Towel or Toilet Paper Roll Wax Paper Rubber Band Pencil
Instructions: Decorate the tube however you want. With a pencil, poke a few holes in the cardboard roll about 1 inch apart. Cut a 4 inch square of wax paper. Secure the wax paper over one end of the cardboard roll using the rubber band.
4. Christmas Tote Bag
- This project is great when there are many kids and adults involved when gifts are exchanged. It's a simple, yet colorful way to keep everyone's gift separate and not all mixed up with others.
Materials:
Brown paper grocery bag Scraps of Christmas wrap Glue Twine
Instructions: Take the brown shopping bag and folded the top down twice (inside) making like a hem. Punch two holes on each side in the hem for the twine handles. Some bags have store names on, so to cover that area with Christmas wrapping paper. Cut out pictures on the wrapping paper in different sizes and shapes and glue than in different areas on the bag.
Mark the child's name on the bag. This is one way to use wrapping paper that is small or left over from wrapping other gifts. So don't throw away paper, even after opening gifts. That would be good for other occasions also. The paper is so pretty so why waste it? That is a wonderful way to recycle paper and you'll have nice looking bags for the kids to enjoy. This is one of he easiest of Christmas crafts.
5. Angel Ornament
This project is simple and quick fun. And of all the Christmas crafts here, this is always a favorite. Parental supervision is recommended.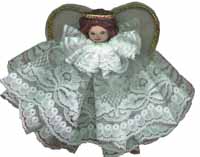 Materials:
20" of 4" wide gathered lace 10" of 1" wide gathered lace 7/8" round wood bead or turning Craft hair 1 square of white felt Paint - brown or blue for eyes, red for lips Craft wire Braided cord 10" Fishing line or heavy duty clear thread Hot glue gun Instructions: Gather 20" piece of 4" wide lace on wire and twist wire together for dress. Hot glue wood bead on top of gathered lace. Gather 10" piece of 1" wide lace on wire for collar, twist closed around base of head. Make wings out of felt in shape of a butterfly. Trim with braided cord around edge. Glue craft hair on the top of the bead. Cut a piece of braided cord to fit top of head (as halo) and glue ends together. Glue on top of hair. Knot piece of fishing line together. Lay on top of wings with the loop above the wings (to use a hanger). Generously glue wings to the back of angel. Paint eyes and mouth on wood bead for face.