Catalogs.com Departments

News & Articles

Avocado Tools - Avocado of the Month Club
Avocado tools make it simple to slice, pit and serve
The right avocado tools make it easy for the home cook to prepare and serve this heart-healthy food, whether in guacamole or other tasty recipes.


If you've ever wanted an easier way to slice avocados, then Avocado of the Month Club has avocado tools that get the job done. Create beautifully uniform slices without having to peel with a simple slicer or select a cutting edge slicer/pitter, which performs both jobs in one handy tool.... read more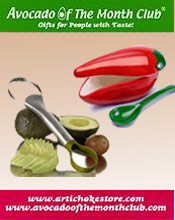 More About Avocado Tools - Avocado of the Month Club:
Other great Avocado of the Month Club departments:
No more bruising or ruining your fruit with this simple-to-use gadget.


For the guacamole lover, there are avocado mashers that make creating guacamole a breeze! Don't use kitchenware that's not designed to mash avocados--get avocado tools for this specific purpose. Now it's easy to make smooth or chunky guacamole with these sturdy mashers. When your delicious guacamole is ready, serve it in ceramic avocado-shaped dishes that will bring a smile to everyone's face.
Never be without the right avocado tools you need to make delicious recipes from fresh, ripe avocados.