Catalogs.com Departments

News & Articles

Closet Shelf Organizers – Space Savers
Create space and tidy small areas with closet shelf organizers
Keeping your closets tidy is easy with the help of closet shelf organizers that are designed to keep your sweaters, towels, pants and anything else in your closet in order. These shelf organizers fit conveniently in closets, creating more space and making closets more functional.


If you need more shelf space to store your sweaters, shirts and fine garments, then closet shelf organizers will do the trick.... read more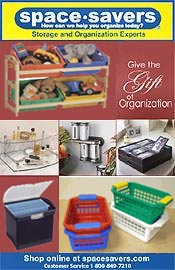 More About Closet Shelf Organizers – Space Savers:
Other great Space Savers departments:
Easy to install, shelf organizers are perfect for keeping your clothes neat and they also help prevent stubborn hanger marks.


For closets that are packed to capacity, use an over the door shelf rack that fits conveniently behind your closet door. Supported by a durable metal frame, you can create instant shelf space in your bedroom closet or bathroom with closet shelf organizers.
Create your own storage system with a shelving tower to hold purses, towels, hat boxes and so much more. Closet shelf organizers even come with garment rods to hang dresses or jackets, plus shelves that are adjustable to accommodate your needs.
Closet shelf organizers are a dream come true for those who are in desperate need of organizing help. Durable and reliable, shelf organizers create additional shelf space to store garments, lingerie, bathroom accessories and much, much more.