Catalogs.com Departments

News & Articles

Home Organizing Tools - Whatever Works
Home organizing tools make your house a neat, organized place
Get your home in order and make everything easily accessible with home organizing tools that work indoors and out! Now you have no more excuses for clutter with these unique and innovative organization solutions.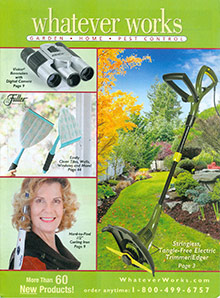 More About Home Organizing Tools - Whatever Works:
Other great Whatever Works departments:
Whether it's your kitchen, garage, tool shed, bedroom or bath, there's an organizing tool that will clean up that clutter! Choose slim rolling carts, battery storage, lid maid organizers, hang n hide laundry racks, six bin swivel organizers and more.


You'll love the neatness and ease from having a place for everything in your home. Bedside organizers, ottomans with storage, seagrass file boxes, lap caddies, fashionable eyeglass holders, mitten tree stands and hanger cascaders are just some of the space and time saving ideas you'll find. No more hunting for needed items and wasting time with these incredibly useful home organizing tools!
Why waste another second looking for keys, batteries or kitchen accessories? Home organizing tools can make your life simpler and your home neater!