Catalogs.com Departments

News & Articles

Kitchen Pantry Organizers – Space Savers
Keep cans, pots and pans tidy with kitchen pantry organizers
Keeping your kitchen clean can be a challenge without having the additional trouble of a sorting through a messy pantry. Keep cans, pots, pans and other knick-knacks in your pantry tidy with kitchen pantry organizers.


There's no longer a need to worry about sorting through cans that are mixed-matched and out of place. Finding the right can of veggies for dinner is easy when you use kitchen pantry organizers that keep cans neatly stacked in place for easy retrieval.... read more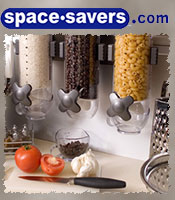 More About Kitchen Pantry Organizers – Space Savers:
Other great Space Savers departments:
Kitchen pantry organizers are the perfect solution for organizing your pantries and cabinets. Pantry organizers come in different shapes and styles, including those that are expandable, multi-tiered, or made from coated wire or plastics.
Keep your aluminum foil, plastic wraps, cleaning supplies, and sponges in place with kitchen pantry organizers. Free up additional space in your pantry with organizers that are easy to install, sturdy and versatile. Kitchen pantry organizers are ideal for all of your storage needs.
You can select from organizers that stack neatly on shelves, hang along the side of doors, or mount easily on the wall with just a few screws. There are also organizers that can be used in cabinets or pantries to keep larger kitchen appliances like baking sheets, pie pans, casserole dishes and muffin tins neat and in place.