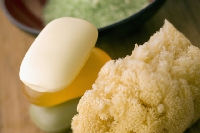 Know where to find accessories for a French bathroom to create European style
History, romance and luxury come to mind when you think of France. From the ornate detailing of vanity mirrors to the colorful stories of characters such as Marie Antoinette, French decor has long held it's place as being one of the most popular decorating themes … especially in the bath. If you know where to find accessories for a French bathroom you can create an elegant bathroom that drips with style savoir faire.
Often times a French theme is not only nostalgic, but lends a romantic feel to the bath. What better way to end a long tiring day that to soak in a hot tub surrounded by accessories for a French bathroom? Elegant, carved and fragrant soaps and candlelight can easily melt the stress away.
There are different French themes you can also choose from to design your bath. The Parisian and Chateau style render a little more class to the bath where as the Country French theme has an earthy appeal. The style you choose is a personal preference, but just where to find accessories for a French bath is the key to creating the look you desire.
Finding accessories to decorate or remodel a bath may not be as daunting as you would think. This list gives you several places to find the items you need to create a French theme.
Your neighborhood paint store – Use soft shades of blue to paint one or more walls in the bath. Another alternative is to wallpaper a border with an ornate scrolling pattern. Soft colors and intricate detailing on bathroom walls is a great start to capturing a French atmosphere.
~
Candle shops – Decorate and dim the lights in the bath with the soft light of a candle. Many candle shops let you customize your design. Choose from the Eiffel Tower to an elegant Fleur de lis candle pattern to grace the counter top or shelving.  
See what the neighbors have – Yard and garage sales are a great way to pick up accessories for a French bath. You never know what treasures you will find!  Rustic painted white furniture gives a slightly modern look to your French theme. Dress the cabinet or small dresser top with antique water basins and bowls to complete the style.
Thrift and antique stores – An ornate mirror portrays a French theme more than a bare or frameless mirror. Iron sconces and small wall tapestries also capture a romantic French 
ambiance. To really go all out, scour the thrift and antique stores for a claw foot tub and pedestal sink. 
Let there be light – Your local lighting store should carry plenty of French lamps, nightlights, or light switch cover plates to complete the theme. From subtle lighting to the romantic, the proper lighting will complete the mood.
Bed and Bath stores – Shower curtain rings, French country side shower curtain, toothbrush holder, soap dishes and more should be yours for the picking at any bed and bath store. Browse through the aisles to find the French theme that fits your personality.


Accessories for a French bath don't have to be hard to find. With a little perseverance, you can create a themed bath that won't go out of style.