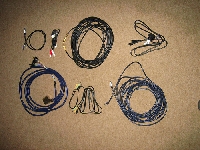 Understanding video cables is easy with this basic guide.
Understanding basic video cables just requires a quick tutorial. Here are some tips and resources to help get your new electronics or home theater system hooked up in a jiffy.
Types of Cables
Here is a brief overview to add to understanding basic video cables:
    S-Video is short for "separated-video". It is superior to composite video cable.
    Component video cable utilizes a three-jack cluster of wires. It is color coded green, blue, and red. This cable helps simplify video electronics and helps to reduce the overall bandwidth.
    Composite video is the standard "AV" connector of yesteryear. It is color coded yellow. Unless you are working with some older model equipment, you probably will not need this cable.
Home Theaters and Source Devices
Expensive electronics beg for a quality cable. After spending a lot of money for high-tech electronics, you probably want them to pull in the highest quality video signals possible. After all, most people purchase expensive new equipment to enjoy the most optimum viewing and listening experience possible and to be on the "cutting edge" of technology. Here are several types of quality cables for high-end electronics (DVDs, home theaters, plasma TVs, etc.):
    DVI Cables
    Rev2 HDMI Cables
    Custom broadcast quality cables
~
Connectors, Converters and Adapters
You may need converter or adapter cables to make your electronics compatible. These may include:
    BNC Connector
    RGB Connector
    VGA Connector
Ask at your local electronics store, or shop for electronics online to find any of these parts. You may need to find a specialty electronics store to find the items you need at the best prices.
Types of Cables
Unless you have an ambition to become a scientist, engineer or Larry, the cable guy, you probably don't need to understand why cables work, or why copper is better than steel as a conductor. However, just for good measure, here are the different types of cables you may find:
    Paired Wires – Wires in a configuration that keeps them closely spaced together
    Twisted Pairs – wires that are closely spaced and twisted around each other
    Twisted Pair with Shield ? Twisted pair with shield such as foil or braid around it
    Coaxial Cable ? This cable resembles a circle with concentric rings of different materials
Guides To Understanding Basic Video Cables
With most electronics, all you will need are the video cables, but sometimes you may need special tools, such as pliers or screw drivers.
If all else fails, consult your service manual (yes, the same manual that came with your new products and which nobody ever wants to read.) If you have consulted the manual along with the guides above, but you are still at your wits end, simply do what most people who just can't figure out basic video cables do: call a technical-minded friend to hook your stuff up for you.
References:
How to Hook Up Various Electronics